The NIGMS Human Genetic Cell Repository (NIGMS Repository) team attended several important meetings during the month of June and interfaced with leaders from the research and disease foundation communities.
Dr. Nahid Turan, Coriell's principal investigator for the NIGMS Repository, was on-hand for the Mitochondrial Medicine Symposia, held June 15-18 in Seattle, WA. The United Mitochondrial Disease Foundation, the Mitochondria Research Society, the Mitochondrial Medicine Society, the Mitochondrial Physiology Society, and Children's Hospital Medical Center of Akron have joined efforts to sponsor and organize this symposium. This annual summit is designed to cultivate networking and encourages dialogue between clinical and basic science researchers, physicians, patients and family attendees.
A week later, Dr. Turan also represented the NIGMS collection at the 2016 Rett and Related Disorders Family Conference, a three-day gathering staged in Illinois. In addition to speaking to a scientific audience to outline the capabilities of the Human Genetic Cell Repository and provide an overview of submission requirements, Dr. Turan delivered talks to the participating disorder groups, including the International Foundation for CDKL5 Research (IFCR), The 401 Project (Cure MECP2 Duplication Syndrome), and the International FOXG1 Foundation.
More recently, the NIGMS Repository group interacted with world-renowned researchers and patient advocates in the area of retinal eye disease at the 2016 Choroideremia Research Foundation Conference in Philadelphia, PA.
"The determination and drive displayed by the respective disease foundation organizations is truly remarkable and inspiring." says Dr. Turan. "It's very rewarding to know that the NIGMS Repository and its powerful research assets can contribute meaningfully to advance our understanding of these complex human health disorders, as well as contribute to discovering treatments and potentially cures."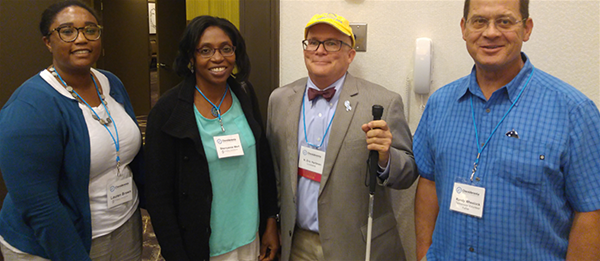 The NIGMS Repository team attends the 2016 Choroideremia Research Foundation Conference.