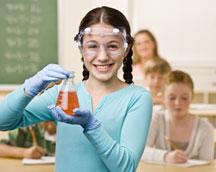 Thank you all for your participation in the 2023 Coriell Institute Science Fair. We will update this page with information for next year's fair once it becomes available.
Winners from this year's event can be found here.
---
Each year, we are thrilled to showcase the very best of South Jersey's science programs. Bright, young students from Burlington, Camden, and Gloucester counties in grades 6 through 12 have the opportunity to demonstrate their passion for science in exceptional projects that span the sciences, including biochemistry, botany, computer science, mathematics, medicine and health, physics, and zoology.
Coriell Science Fair winners advance to the Delaware Valley Regional Science Fair (DVSF). DVSF winners can advance to the highly-acclaimed Regeneron International Science and Engineering Fair.